Order the Book
Photo Gallery
Meet the Author
Book Reviews
Book Excerpts
In Memoriam
News
The Musical
Audio / Video
Patsy Cline Letters
Author Interviews
Memorabilia
Under Construction
St. Patsy's Day
Trivia
Games
Fan Comments

Louise Seger Feature

Country Store
Author Links
Add Our Banner
Home

Thank you for visiting the Website of Ellis Nassour's
Patsy Cline :
Honky Tonk Angel
For information about Patsy Cline or to E-mail comments:
PatsyHTA@aol.com
Hilda Hensley
March 9, 1916 - December 10, 1998
"Death Cannot Kill What Never Dies,
Love"
from Patsy Cline's gravesite bronze marker

Patsy's mother, Hilda Hensley, in 1985,
embracing one of the cowgirl outfits she
made for Patsy. This one was worn
frequently by Patsy, including several
times on the Washington, D.C. Town
and Country Jamboree and once on an
Arthur Godfrey CBS-TV morning show
after Patsy won the Talent Scouts
competition in January 1957.
from Patsy Cline's gravesite bronze marker

Patsy's mother, Hilda Hensley, in 1985,
embracing one of the cowgirl outfits she
made for Patsy. This one was worn
frequently by Patsy, including several
times on the Washington, D.C. Town
and Country Jamboree and once on an
Arthur Godfrey CBS-TV morning show
after Patsy won the Talent Scouts
competition in January 1957.

Photo: Stanley Trettick 1985, 1993, 2008
from
Honky Tonk Angel: The Intimate Story
of Patsy Cline by Ellis Nassour
~ Ellis Nassour would like to pay special tribute to HILDA HENSLEY,
Patsy Cline's late, devoted mother: "Hilda Hensley was a most remarkable woman.
She survived many obstacles in her life, including the death at an early age of a
beloved daugther. I can never forget Hilda's many kindnesses to me when I
contacted her in 1979 to write a series of maganize features on Patsy Cline; and
the trust she placed in me to get the story right. In fact, when I began the first biography,
Hilda was intimately involved in getting it started." ~
HILDA HENSELY : UNITED AT LAST WITH PATSY CLINE. MAY THEY REST IN PEACE
The following notice was published in the Winchester Star, Winchester VA:
Hilda V. Hensley Hilda Virginia Patterson Hensley, 82, of 605 South Kent Street,
Winchester, died Thursday, December 10, 1998, in Winchester Medical Center. Mrs.
Hensley was born March 9, 1916, in Fauquier County, the daughter of James A. and
Goldie Newlin Patterson. She married Samual L. Hensley in 1932 in Winchester.
Surviving are a daughter, Sylvia H. Wilt of Woodstock; a son Sam, of Winchester; a
sister, Lena Allison Belford of Winchester; eight grandchildren; and seven great-grand-
children. A daughter, Virginia H. Dick (Patsy Cline), is deceased. A funeral will be at
2 P.M. Monday at Jones Funeral Home. Burial will be in Winchester National Cemetery.
HILDA V. HENSLEY
1916 - 1998

Hilda Hensley was a mother first and foremost.
She was not my mother, but she never objected
to me calling her 'mom'.

She is Patsy Cline's mother. Also mother to
Sam and Sylvia. I had the rare opportunity to
meet this selfless lady ~~ and a lady she was ~~
my first time in Winchester. We connected
immediately and a significant friendship began.

She cared deeply for her children. Naturally,
she felt a terrible loss when one of them was
taken home prematurely. Even as someone on
the outside, I saw an obvious hole in her heart
from the loss. Patsy and her were a team. She
would mourn her death until she herself would
join Patsy. Hilda, with the help of Sylvia,
created a foundation in Patsy's name to offer
scholarships for deserving young people seek-
ing musical careers. Through her memories I
was able to see Patsy like no movie script ever
could let you see her.

Hilda was extremely caring. That is what set
her apart. She was always there when I need-
ed an ear to listen to me; and there for advice,
musically and personally. Even when she was
tired and, later, when ill, she took time to knit
special items for the annual fan gathering in
Winchester to celebrate Patsy Cline.

On her passing on December 10, 1998 a part
of me, and I am sure a part of all who knew
Hilda, went along with her. It was an honor to
know her and to be welcomed into her home as
one of her own.

She was Patsy Cline's mother. She was dear
to me. She was.

Remembered now and always,
James Gibbons
Also remembering: Bill Peer, Ernest Tubb, Roger Miller, Marty Robbins, Roy Acuff, Owen Bradley, Faron Young, Porter Wagoner, Minnie Pearl, Marie Flynt, Samuel Hensley, Owen Bradley, Jimmy Dean, Charlie Dick, Billy Walker Roy Clark

Dottie West

Beloved friend of Patsy Cline. Dottie was an immense help in telling the story of Patsy Cline in my biography. Spending time with her was such a joy. She was a remarkable talent, and, after much too long, has been inducted into the Country Music Hall of Fame.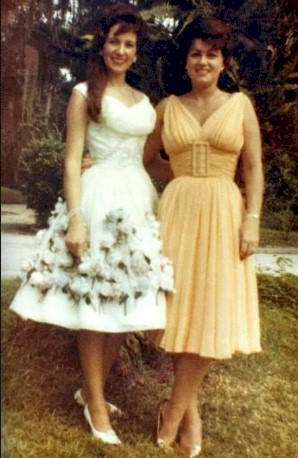 Patsy Cline and Dottie West, July 1962, on location in DeLand, Florida, for a movie that was never completed. Patsy and Charlie drove down together. Also in the film were Webb Pierce and Sonny James. If a completed film ever existed, it's never been found.

From The Winchester Star, Wincheter, VA, January, 2001
PATSY CLINE'S CHILDHOOD HOME SOLD
The ultimate Patsy Cline lover now has a chance to live at her Winchester
home at 608 South Kent Street for $625 a month. One catch, though: You
must be willing to deal with tourists who make a pilgrimage to the city for the
beloved country singer.
Built in 1900, the 1,716-square-foot home has wooden floors, a backyard
that borders Town Run, and, obviously, some famous karma attached to it.
Kevin D. Adams, president of The Adams Companies, said Friday the home
is for rent, basically to cover the cost of purchasing the building."It's pretty
much ready for occupancy."
The real idea behind the purchase of the home, though, is to preserve Patsy's
home, according to Adams. The home could eventually be furnished in a manner
similar to the way it was when Cline lived there, and tours could be conducted, said
C. Douglas Adams, chairman of the board of The Adams Companies.
"I think people coming to town to experience the spirit of Patsy Cline would want
to at least come by or see this house," C. Douglas Adams said Friday.
The Adams Family Limited Partnership, comprised of Adams family members,
bought the South Kent Street property and the later home of Cline's mother, Hilda
Hensley, at 133 E. Monmouth Street, for $127,000. The company bought through a
limited liability corporation, Sweet Dreams for Patsy LLC, and the deed was made
January 5. They purchased it from Sylvia M. Wilt and Samuel L. Hensley Jr., Hilda
Hensley's children. The 608 South Kent Street property is assessed at $51,800, and the
133 East Monmouth Street property is assessed at $71,300, according to the Winchester
Assessor's Office.
"Patsy Cline lived in the home periodically from the late 1940s until 1957, when she
married Charlie Dick," said Mel Dick, general manager of the Always Patsy Cline Fan
Club and Charlie Dick's brother. Mel Dick said he was pleased to see the Adams name
attached to the purchase, because it means the home will remain for the future. "They
purchased the house for all the right reasons."
Kevin Adams noted that those who wanted to preserve the singer's memory
wouldn't have to watch someone buy the property and sell it to the highest bidder on
eBay, for example. "Everyone that we've talked to has been really grateful," he said.
Winchester City Council President Charles T. Gaynor happens to be one of those.
He said he was pleased a local person with an interest in the community bought the
property.
The purchase is part of a larger picture that's beginning to come into focus for
Patsy Cline recognition in the city, Winchester Mayor Larry T. Omps explained. A
Patsy Cline museum, which also has been discussed for a Winchester location, is
coming close to fruition, Gaynor said, although he did not specify further.
"We're working desperately on the museum, and I think this could become a part
of the (Patsy Cline) tour," said Omps.
The home's preservation simply is another piece of the puzzle falling into place,
said City Councilman Michael E. Noel, a board member of Celebrating Patsy Cline
Inc., a local organization dedicated to finding a museum honoring the singer.
Adams is the past president and board member of Celebrating Patsy Cline. He
added that the plan also is to rent out Hilda Hensley's home at 133 East Monmouth
Street. The two-bedroom apartment in the building would cost about $525 a month,
while the one-bedroom apartment would be $425 a month.
That home is located almost directly across the street from 608 South Kent Street.
Noel asserted that Cline will be the anchor for all Winchester-area tourism, whether
it be Glen Burnie or Belle Grove. "I'm a country music fan, and she deserves this," he
said.