Legendary Dottie West, Miss Country Sunshine
By Ellis Nassour
Author of Honky Tonk Angel: The Intimate Story of Patsy Cline, with a Foreword by Dottie West.
April 13, 1965. Los Angeles: The 7th annual Grammy Awards, honoring music from 1964 in the very first year Country categories were added.
Roger Miller and "Dang Me" were nominated in five of the six eligible categories: Best Country & Western Vocal Performance/Male, Country & Western Single, Country & Western Song, Country & Western Album, and New Country Artist.
He was a newcomer up against legends: In one category, there was Chet Atkins, Johnny Cash, Buck Owens, Jim Reeves, and Hank Williams Jr. He won each category.
Dottie West was nominated for Best Country & Western Single, "Here Comes My Baby"; Roger won. She was nominated for Best Country and Western Song; Roger won. She was nominated for Best New Country Artist; Roger won.
But ... There was one category where Roger couldn't compete: Best Country & Western Vocal Performance/Female. The competition was fierce: beloved stars Skeeter Davis, Connie Smith, Jean Shepard, and Wanda Jackson.
"Here Comes My Baby" was only Dottie's third recording her first, "Let Me Off at the Corner" had made the Country Top 40; her second, a duet with Jim Reeves, "Love Is No Excuse" was out and making noise [it became a hit following Reeves' death, July 1964].
It was just over a year since Patsy Cline, who'd been grooming Dottie for success, was killed in the plane crash with her manager Randy Hughes, the pilot, and Opry legends Hawkshaw Hawkins, and Cowboy Copas' Randy's father-in-law. It was a devastating loss.
At the Grammys, when Dottie's name was announced, she was in shock; trembling and such a bundle of nerves, Bill had to help her to the stage. At the after party, the night belonged to the two newcomers.

They made Country history -- and Dottie, 31, became the first Country female to win a Grammy.
Why did it take 27 years for the Country Music Hall of Fame to induct Dottie? She was one of country music's brightest stars for over 30 years; a superstar in the 70s - with hit records and always on TV
Was the Country Music Foundation blind to her amazing solo career, which included "Country Sunshine," written by Dottie for Coca-Cola - a commercial that zoomed to #2 on the Country charts and became a hugely popular crossover smash; her numerous awards; and her incredible duet success with Kenny Rogers, which included Country Music Association Awards for Vocal Duo of the Year twice?

In 1967, I saw Dottie and Roger again in Nashville. They were still beside themselves. In the meantime, Roger had been honored by the Academy of Country and Western Music as Best Songwriter, and Man of the Year. Dottie was honored with BMI's Songwriter's Award for "What's Come Over My Baby?," written with husband Bill.
I met Dottie, Loretta, and Brenda at the DJ Convention, the forerunner to Fan Fair. Each was riding high. Patsy had heavily influenced each one and they had bonded as "sisters."

Dorothy Marie Marsh was born only 74 and a half miles from Nashville, but as far as her dreams and aspirations, it might as well been quadruple that. She was one of 10 children, raised in near poverty in Frog Pond, just outside McMinnville, Tennessee.
In a very short time, she went from country bumpkin, enduring tough times, to become a major recording artist and fan favorite.
Patsy had a heavy influence on Dottie. "I looked up to her. Patsy was my teacher. I'd watch her from the wings at the Opry. I knew I could never duplicate her, but I was determined to try. I wish more of her had rubbed off on me.

"Patsy put feeling into her songs. It came from her soul. She taught me how to show emotion, how to say the words and make them mean something. She helped change my look in transitioning from Western outfits to clothes that fit my figure - clothes her mother Hilda made for me; - things that once got Patsy in trouble with the Opry powers-that-be, that were never too clingy for me. She got me to cut her hair, taught me how to take the mike and move around the stage."
Dottie observed Patsy's take-charge way of doing business and handling male artists and promoters.

There was risk in daring to be different. The odds were against Dottie. The fans weren't. She sold records. The bottom line was all any music executive cared about. In the process, Dottie proved to be an innovator, - like Patsy, ahead of her time. Country music was changing. Dottie, as Patsy had begun to do, segued to the new Nashville Sound and helped bring it out of diapers. In the seventies, Dottie spent thousands of dollars on stunning costumes by Bob Mackie. - Creating a brand of sex appeal new to country music.
"Patsy kept encouraging me to write," revealed Dottie. "She told me she hoped I'd write a tune for her. But Patsy, all her dreams coming true, huge in the crossover market, and now in her dream house, could really get Loretta and me down when she spoke of her premonitions of death.
At home, Patsy was a hoot -- cleaning, waxing, dusting, and mopping. Cousin Minnie razzed her, "What do you need the maid for?"

With tears in her eyes, Dottie recalled how "Patsy was always giving to us gals starting out. The stories are endless of all she did: the loans she never expected to be repaid, advice, food, clothes, costumes, even furniture. That really rubbed off on me, - at least, for as long as I could."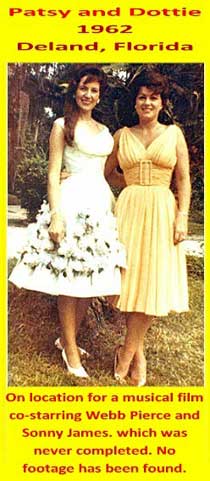 At a hen party, early spring 1962, Dottie recalled "how Patsy, Loretta, and I were sitting around the music room crying over trying times in the business and the ones our men put us through. Patsy disappeared. She came back with bulging scrapbooks. 'I want y'all to have these," she said.' We refused. They were her book of memories. She said, 'Keep them. I'll never live to see 30.' We agreed -- on the promise we'd save them for her children. We did."
Just when Patsy should have been enjoying her success, Dottie saw she was plagued with seeds of doubt. "How can I top what I've done? What does the future hold?" she'd often ask. "On the inside, Patsy was dealing with hurt and unfulfilled promises. She brought everyone happiness. The saddest thing was that she never found it in her own life, except in her children, Randy and Julie."
Dottie soon realized "that Patsy's music was telling her story." With "I Fall to Pieces," "Crazy," "Leavin' On Your Mind," "You're Stronger Than Me," "That's How a Heartbreak Begins," "Faded Love," and "I'll Sail My Ship Alone," what she was singing about at the microphone was what she was going through at that exact moment in her personal life. "The poignancy in her voice that endeared her to millions was coming from pain deep inside."
During her worse times, when she was bruised and battered, it was Dottie, Loretta, and Brenda cheering her out of her depression. As Patsy had been there for them, the trio -- especially Dottie, became the strong shoulders she cried on. They were the inseparable three. Theirs is a most touching example of ultimate friendship.
"I had a lot of drive and ambition," said Dottie, "but I was determined to have a happy life. I sure tried, but it didn't always turn out the way I expected."

Dottie and Patsy shared a dressing room at Patsy's last concert, Sunday, March 3, in Kansas City. Patsy flew in on Randy Hughes' four-seater deep into a very bad cold and just in the nick of time to change to finish the first show. In between shows, instead of resting, she and Dottie talked, "sharing emotional things. Her plan was to take a long leave to be with her children and make changes in her life.
She'd had it with the husband's emotional and physical abuse. Finally, after several years of telling anyone in Nashville who'd listen she was doing it, Patsy was filing for divorce. "In spite of her state," recalled Dottie, "she went out for the third show, rain pouring outside with some leaking onto the stage. She was so lifted by the audience that she defied anyone to remember who'd been on before her."
At the hotel, Dottie was with Patsy when she received an irate call from her husband, who'd been drinking heavily. He was loudly demeaning her and demanding she leave immediately to get home and be a wife and mother to their sick son who was running a fever. Patsy was in tears.
There was no way she could leave. It was past midnight and Randy, who wasn't instrument trained, could only fly in daylight. To further complicate things, the airport was fogged in.

Patsy was in a hurry to get home, not so much because of little Randy, who was being looked after, but because she had an appointment with her lawyer the next day to sign the final decree. "Bill and I were driving home early the next morning," recalled Dottie. "I talked Patsy into going back with us. At the last minute, she changed her mind. She decided to wait it out with Randy, Hawk, and Cowboy. Her last words were, 'We'll beat you back and we'll go shopping.'"

Two mornings later, Dottie woke to a nightmare. "Losing Cowboy, Hawk, and Randy hit hard, but the loss was greater for me. My Patsy was gone."
At our last interview, October 1980, Dottie said, "I missed Pasty so much, but I knew she was dancing with angels and singing in Heaven's band. I think of her often, but not to cry. As much as I cherish the past, I can't live in it. Patsy prepared me for the future, making me a better person, a better singer. I thank God she was part of my life. I hope that's the way people will remember me."
Dottie was a people person. She loved getting to know all about a person. -In hindsight she might have tried to get to know a few lots better. Before the extenuating circumstances of the late 80s and early 90s when she was literally flat broke, you could not have found a more giving soul in show business. Sadly, in her greatest time of need, many she gave plenty to weren't there for her.
The last three years of Dottie's life were far from pleasant -- the result of bad investments, bad decisions, bad marriages, alcohol, drugs. She was drawn into a quagmire, most of it her own making, that she couldn't recover from. Many friends disappeared. I recall a major country star saying, "If I'd only known, I would have helped." Oh? Her circumstances weren't Music City's best kept secret. So, why didn't you?
Dottie wasn't ready to fold the cards. She was trying hard to find redemption. God bless the fans. They were her tonic. Tour buses would pass her home. Drivers often slowed so she could hear exclamations of support. On a couple of rare occasions, Dottie went to the door and waved. On a couple of even rarer occasions, to brighten her spirits, she got all dolled up, went out and up to the fence. Flashbulbs popped, fans ran up for autographs and photos. She hadn't been forgotten.
The Opry stood by Dottie. She was on the way to perform when the car she was in plowed off the Opryland Drive exit. In another eerie association with Patsy, as on the day of her 1961 near-fatal auto accident, Dottie didn't think her injuries were as serious as the driver's. She insisted he be taken to the hospital first. But her injuries were quite serious.
Through several surgeries, she remained optimistic. Loyal friends Kenny Rogers and Jeannie Seeley, whom Dottie had encouraged to relocate to Nashville after she recorded a tune she'd written, visited often. Kenny was there on Dottie's last day. She had been prepped for another surgery and though she probably couldn't hear him, Kenny spoke to her, cheered her on. It was not to be.
Dottie West passed on September 4, 1991. -- ironically, four days before Patsy's birthdate.


Over 600 attended her funeral. The president of the United States, George H.W. Bush, expressed his condolences.
September, 2020